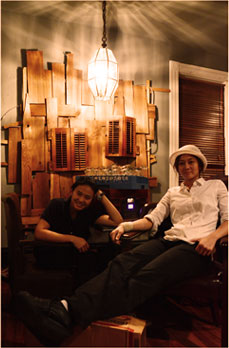 We have fallen in love with Downtown Charlottesville and people, since we moved here in 2009. My partner and I work so hard to keep the Monsoon that everyone love, still easy and cozy. The place that you can chill out at re-opened under the name "Monsoon Siam".
Our restaurant serves quality food and drinks with reasonable prices, inspired by original Thai cuisine. This influence has involved into an eclectic and personal menu, including favorites like Pad Thai, Tom Yum noodles soup and vegetarian foods.
In the summer, Monsoon Siam has a large shady patio overlooking Market Street. Also in the winter, we have a colorful eclectic decor inside, featuring art and furniture by employees and friends, past and present.
Thank you for your support!
Kitty & Pooh
"Let us make your next dining experience a memorable one!"